Fisher Upfits
---
Dedication to high quality products and unparalleled service has been a FISHER® tradition from the start. A proven and a trusted company, Fisher Engineering has been producing snow plows, as well as hopper and tailgate mounted ice control spreaders, for more than 70 years in the coastal city of Rockland, Maine. Our industry-leading expertise has earned us a solid reputation among snow plow professionals, enabling our partners to help communities recover from weather events faster and remain safe.
View Fisher Upfits
---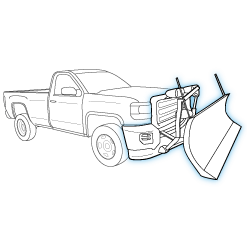 Fisher Plow Upfits
The Plows Trusted by the Pros! Fisher makes a variety of plows from 6'8" straight blades for your mid-size truck or SUV, to 8'6" v-plows, to 10' winged plows for heavy snow cleanup. All plow blades are made with powder coated steel or stainless steel moldboards and come with powder coated, stainless, or high carbon steel cutting edge or even rubber for a more gentle approach on pavers or concrete. Additional options include wing extentions, curb wear kits, and back drag edge kits.

Fisher also manufactures and distributes several ice-maintaining, tailgate spreaders. Featuring a 2-stage, auger-fed delivery system with independent control of material flow and spread pattern, these tailgate spreaders are designed to deliver the right de-icing material to the right place without sacrificing your cargo space.
View Fisher Plow Upfits