Auto Crane Upfits
---
Auto Crane is based in Tulsa, Oklahoma. We engineer, design and manufacture a comprehensive line of truck-mounted electric and hydraulic cranes, crane bodies, crane control technologies, and accessories. Our name and products are recognized and used the world over by serving markets such as the energy, mining, construction, forestry, and railroad industries. Auto Crane is an American brand and is still proudly made in the USA.
View Auto Crane Trucks
---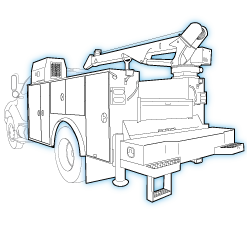 Auto Crane Mechanics Body
Mechanics bodies provide size options from 9' to 14'. Crane ratings available from 16,000 ft-lb to 85,000 ft-lb of lifting power. The patented one-piece 10 gauge side-pack design offers support even in rugged, off-road use against cracking and rust. The crane is thoroughly integrated into the box to transfer load directly to outriggers, reducing stress on the chassis. The load space includes four to six heavy-duty tie downs for payload security.
View Auto Crane Mechanics Body Upfits
---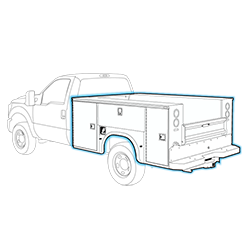 Auto Crane Service Body
Most service bodes are designed for on-highway use. When off-road use is the norm, fleet managers and technicians agree Auto Crane Titan service bodies stand up to the most rigorous daily demands of reliability, utility, efficiency and longevity. In fact, the innovative Titan crane body is engineered to out-last and out-work any truck it's mounted on. Titan is the field-proven choice for the challenges you face every day.
View Auto Crane Service Body Upfits
---
Auto Crane Welder Body
Purpose-built Titan bodies with welder platforms for large engine-driven welders such as the heavy-duty Miller Electric Big Blue series and the Lincoln Electric Big Red and Vantage series. Bodies for class 5-7 single axle and class 7-8 chassis.
View Auto Crane Welder Body Upfits
---
Other Auto Crane Bodies
Auto Crane also offers additional body types such as the Propane Body and Lube Skid Body. Both come with the Auto Crane patented one-piece, side-pack design to minimize cracking and rust during rugged, off-road use. Crane capacities available from 38,000-50,000 ft-lb of lift.
View Other Auto Crane Body Upfits