---
At Carolina Custom Products the highest quality, reliability and durability of our custom truck beds is the main focus of every person in our organization. Our success is based on continuously improving the quality of our products. Our commitment is to EXCEED your expectations and deliver top-notch beds made with superior materials.
View Carolina Custom Upfits
---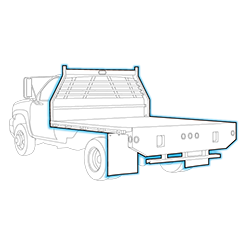 Carolina Custom Products Platform Body
Our Flat Beds are designed utilizing a 3/16" thick flat deck that delivers strength and durability to maintain long lasting utility for the life of your truck. Choose steel or aluminum then from there, it can be customized into a wide variety of configurations by adding one or more of our featured options to maximize versatility and meet your most demanding needs.
View Carolina Custom Products Platform Upfits
---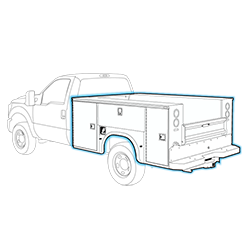 Carolina Custom Products Service Body
Our Service Body is a workhorse at heart! With its beefy, all-steel construction, you get loads of strength and never have to sacrifice quality or style. A full compliment of storage compartments are built-in, lockable and water resistant. Each with internal hinges, anti-theft latches making for a dry environment to store your most expensive tools. Available in a variety of widths to fit any chassis and optional gooseneck hitch.
View Carolina Custom Products Service Upfits
---
Carolina Custom Products Stake Bed Body
Exceeding the industry's standards, this bed is capable of handling the toughest jobs. Its industry leading aerodynamic features are designed for low wind resistance, noise control, and increased fuel mileage. With a large array of standard features and options, this bed will get the job done. Models available in sluminum or steel, with or without built in toolboxes.
View Carolina Custom Stake Bed Bodies
---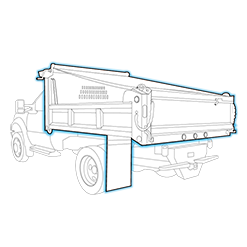 Carolina Custom Products Dump Body
The term dump bed explains it all. As a contractor, landscaper, or anything in between, our dump bodies have what you need to move materials for any job. We can set up your bed with a hoist dump in either electric or PTO driven hydraulic, then add any of our optional side packaged and you're ready to go. Available in steel or aluminum bodies.
View Carolina Custom Products Dump Body Upfits
---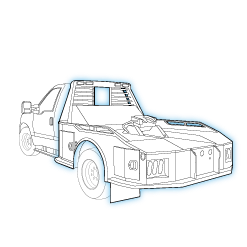 Carolina Custom Products Hauler Truck
The ultimate Hauler bed, without a doubt! Beautiful design coupled with Brute Strength provides complete capability and absolute elegance. Add on our optional 40K 5th wheel, and this bed will fit all of your hauling needs. Put us to the test, you won't find a hauler bed that matches our looks, quality, pricing or performance.
View Carolina Custom Products Hauler Trucks